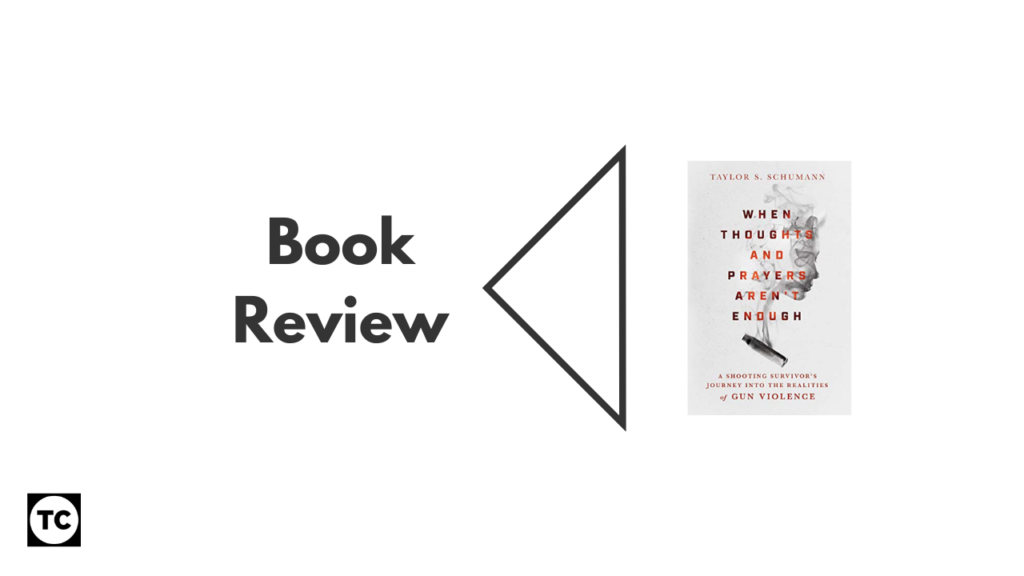 I am not an American. I am not a gun owner. I flirt with pacifism, and for a whole host of reasons cannot understand the American interest in guns. Yet many of my brothers and sisters in Christ in that country (and probably others) are passionate about their right to bear arms. Yet that right, in my view, seems to come at the cost of death every year, of injuries almost every day, due to gun violence.
I picked up Taylor S. Schumann's When Thoughts and Prayers Aren't Enough: A Shooting Survivor's Journey into the Realities of Gun Violence in an attempt to understand more of this particularly American phenomenon – in a book written by a survivor of a shooting, who previously was pro-gun. Taylor was at a school when a shooter arrived – she was injured, surviving but having her life irreparably changed. The autobiographical element of this book is haunting and gripping – particularly as she seeks to bring the reader with her, rather than ramming her story down our throats and saying 'guns bad'. This is a nuanced book. This nuance means it is worth reading even if the topic of gun violence is not one that interests you. For example, "The answer to our prayers does not always means God heals us of the suffering. Sometimes, it means we are sustained through it" (p. 34). That quote faces a chapter about the 'should have beens' – the shooting left more than a phsyical scar, it permanently affected Taylor's ability to enjoy herself in public, to feel safe in gathered contexts, and a dozen score of other things.
This book – beautifully written, painfully produced (the hardback edition I read contained subtle but moving bullet smoke images, echoing the cover, which meant that text could never fully distract the reader from the issue) isa book of two halves. The first is 'A Survivor's Journey', the second 'Our Societal Challenge'. In the latter part, the challenge of following Jesus to the inherent nationalism of the American gun question is jarringly posed:
"We can debate the context and meaning of the Second Amendment all day long. We can discuss rights and liberty and freedom until our voices grow weak. But at the end of the day, if you are someone who follows Jesus, it just doesn't matter. Maybe it's shocking for you to hear that something in one of our country's foundational documents doesn't matter. Maybe it sounds blasphemous. Let me explain further…" (p. 196).
If you are an American, a gun owner, and a Christian, this book is for you. Please read it – the issue is far larger than just your right, and the problems are far more complex than your responsibility. If you aren't one of those, or are only one of those, this book may not seem like something worth reading, but I think it is. This is a book to make you think, a book that invites you to discuss, and a book that moved me to prayer. I recommend it. And, as ever, I'm open to recommendations of books that disagree with this one – I want to understand the issue/s.
4/5