Throughout September 2022, I managed to read and reflect – briefly – on a Psalm each day. For December 2022, I'm going to pick up the discipline. I'll read the Psalm, pray, and then ponder a few questions:
What is this Psalm about?
What does this Psalm teach about God?
How does this Psalm connect to God's people today?
I'll close the post with a simple prayer, trying to draw the themes together.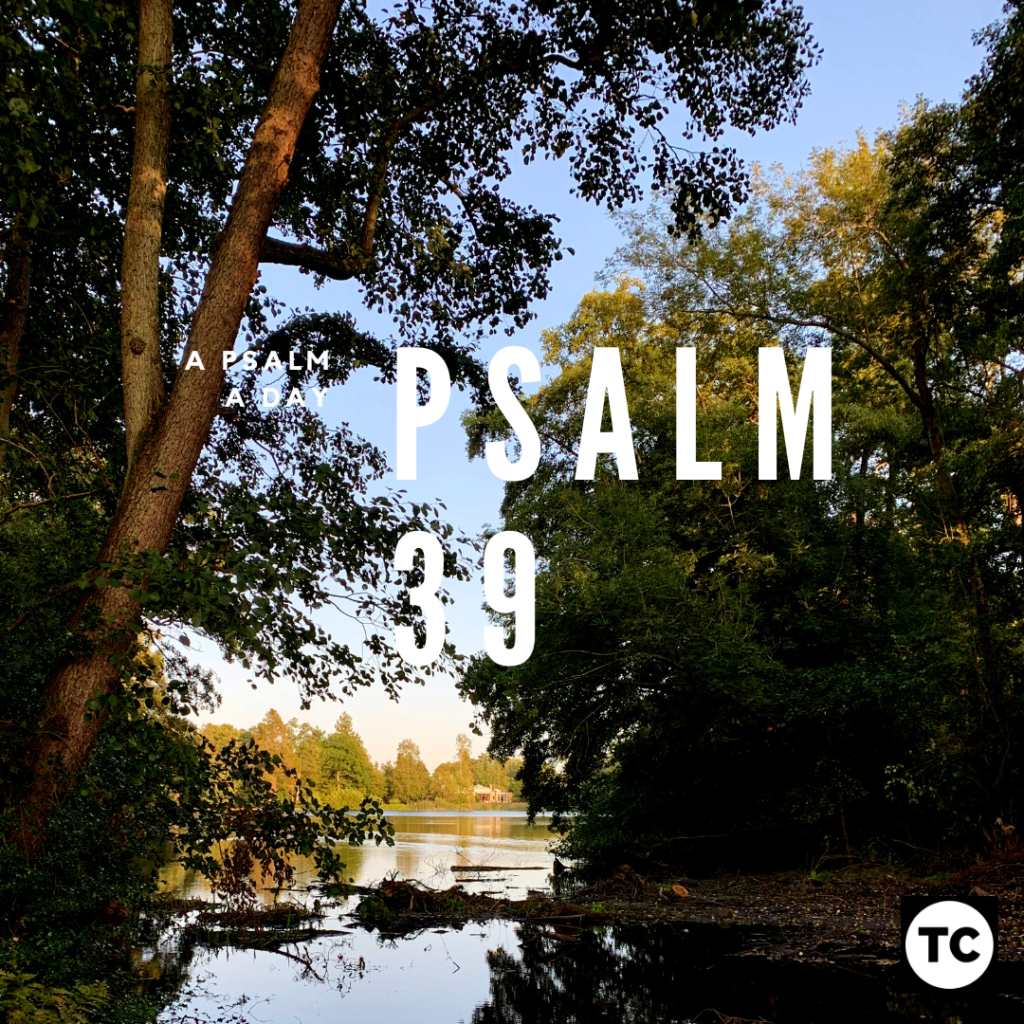 On the tenth of December, here's Psalm 39:
1 I said, "I will watch my ways
    and keep my tongue from sin;
I will put a muzzle on my mouth
    while in the presence of the wicked."
2 So I remained utterly silent,
    not even saying anything good.
But my anguish increased;
3     my heart grew hot within me.
While I meditated, the fire burned;
    then I spoke with my tongue:
4 "Show me, Lord, my life's end
    and the number of my days;
    let me know how fleeting my life is.
5 You have made my days a mere handbreadth;
    the span of my years is as nothing before you.
Everyone is but a breath,
    even those who seem secure.
6 "Surely everyone goes around like a mere phantom;
    in vain they rush about, heaping up wealth
    without knowing whose it will finally be.
7 "But now, Lord, what do I look for?
    My hope is in you.
8 Save me from all my transgressions;
    do not make me the scorn of fools.
9 I was silent; I would not open my mouth,
    for you are the one who has done this.
10 Remove your scourge from me;
    I am overcome by the blow of your hand.
11 When you rebuke and discipline anyone for their sin,
    you consume their wealth like a moth—
    surely everyone is but a breath.
12 "Hear my prayer, Lord,
    listen to my cry for help;
    do not be deaf to my weeping.
I dwell with you as a foreigner,
    a stranger, as all my ancestors were.
13 Look away from me, that I may enjoy life again
    before I depart and am no more."
What is this Psalm about?
This is the prayer of a sick man, a sick person, suffering and struggling. It has aspects of lament, of complaint (v10b for example) and of hints of a reason for the suffering. It is also an interesting blend of things when considered in the light of Scripture – with echoes of Ecclesiastes' breath (v5, v11b), and a complex hope, rooted in God (v7b) and yet not as simplistically Jewish as we might at a surface reading expect (v12b). There is a lot going on in this relatively short Psalm.
What does this Psalm teach us about God?
Verses 4 and 5 clearly teach that God knows, and can tell, the shape and times of a man's life. This is a fascinating thing, pointing beyond a mere tidbit of information to ideas like omnipotence (Being all-powerful), foreknowledge (knowing things 'before' they happen) and having a very different relationship to time. There is also a contrast, I think, between God and us, in v5b, "Everyone is but a breath, even those who seem secure" – God is not like that, because God is secure in a way we cannot be. The God of Psalm 39 can perhaps seem distant, but this is also a God who we can hope in (v7b), pray to knowing that he hears (v12a), and who judges (v11).
How does this Psalm connect to God's people today?
Illness will be with us until the renewal of all things – and so having this painful account of how one of God's people felt is a lifeline for some. The complexity of the theology here – with the implication that (v10) the pain is in some way caused by God – can offer a pastoral resource of validating the reality and complexity of pain now. Even when the Psalmist is doing the right things (v1-3) the pain remains and even increases – leading to the strange prayer at the end of the Psalm, v13, which as a reader I wanted to cry 'no, don't ask that'! Of course, this Psalm is not the last word on suffering – and in fact this is good, it means that there is permission from God, in the Bible, to be ambiguous and pray the wrong thing, because it is not the end of the story.
A prayer drawn from Psalm 39:
Lord, we cannot fathom the way you see time and see us, the way you judge and act, but we choose to hope in you. Help us to trust your way, even when it hurts, and we don't understand. Thankyou for giving us the example of Psalm 39 for the complexity of pain and the challenges of life – help us not to stay here, but to move ever on. Amen.